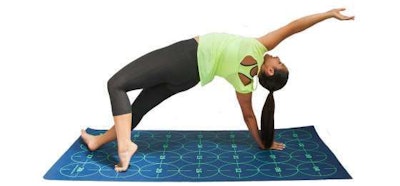 Yoga looks deceptively easy. You roll out a mat, contort your body into some odd positions and just like that, you're doing yoga. Except it's not that simple.
Learning how to do yoga poses correctly to maximize relaxation and fitness benefits can be stressful for beginners.
Yoga By Numbers is a mat designed with numbered targets and gridlines to help you learn proper positioning. They are 25 percent larger than standard yoga mats, so they may not roll out well in a truck. However, they're made of natural rubber and can be used at home, in truck stops and other locations along your route.
Yoga By Numbers comes with a free app complete with full length classes.
The mat retails for $119.95 online. It comes with a DVD teaching 30 foundation poses in 10 sessions, and includes a carrying strap.