Many of the ways suggested by the medical community to get fit are not always practical for truck drivers, who because of nature of their jobs are all but forced into a sedentary lifestyle.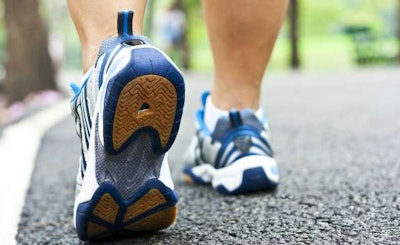 However, there is one exercise that can be performed pretty much regardless of where you are, and that's walking. All you need is a decent pair of walking/running shoes to ensure your feet are well protected as you walk, especially on hard surfaces like truck stop parking lots.
Much has been written about the goal of walking 10,000 steps a day, which is about five miles. That is not a recommendation by the Center for Disease Control, but if you can fit that much walking into your schedule, that means burning about 3,500 calories per week or a pound of fat. Keep in mind that 10,000 steps is a pretty big jump since the typical American logs about 5,900 steps a day, and you're considered sedentary if you walk anything less than 5,000 steps.
Aside from weight loss, improved cardio-fitness and general physical well-being, walking has other benefits. These include:
It's a great way to boost your mood, and can reduce anxiety and stress.
Going for a 30–40 minute walk a few times a week can prevent brain shrinkage and memory loss.
An after meal stroll can help speed up your rate of digestion.
Studies suggest that walking for 30 to 40 minutes will boost the amount of immune system cells in your body.
Going for a walk can strengthen a relationship with a co-worker or partner. It's also a great way to blow off steam and vent — even if to yourself — about a tough day on the road.
Keep in mind a few things before strapping on a new pair of kicks and doing laps at the truck stop. Consider these tips:
See a health care provider before starting a walking program or any other fitness regime.
Be smart about where you walk; make sure the footing is safe and as even as possible, that you walk someplace that is well lit and not remote.
Carry your smartphone to track your route, and to summon help if you are injured or feel unsafe. There are many apps for both.
Don't overdo. Start slowly and build up to more time and more distance.
Warm up and cool down.

Source: Fix.com Blog