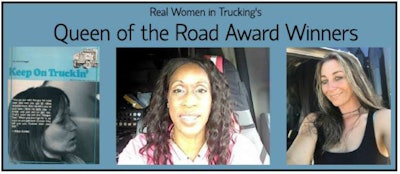 Three women truly are Queens of the Road following the first Real Women In Trucking's Lady Truck Driver Cruise. Two more are honored as Trucking Industry Trailblazers and several others were also recognized.
Chosen Queens of the Road were: Daisy Delaney, Dee Sova and the late Adriesue "Bitzy" Gomez, who will be represented by her daughter Delores Gomez.
The first Trucking Industry Trailblazers were: Idella Hansen and Sandi Talbott.
Honorable mention recognition went to: Alison Morris, Candace Marley, Naza Silvia and Janet Steverson.
The awards ceremony is Friday, March 31 aboard the Carnival Conquest. Winners were chosen during online voting.
Real Women In Trucking's Queen of the Road awards are meant to be "… a dignified recognition award for women who work as truck drivers that have not only overcome personal challenges, but who also have demonstrated a "Pay it Forward" approach to help others by sharing their wisdom," according to the organization's website.
Queen of the Road winners receive a trophy and a $500 Visa gift card. The "President's Choice Award" winners receive the "Trucking Industry Trailblazer" trophy. Honorable mention finalists receive a Queen of the Road T-Shirt.
The Queen of the Road Awards are sponsored by HaulHound, which also made it possible for Gomez to represent her mother at the awards ceremony.
The Lady Truck Driver Cruise concludes Saturday, April 1.
Desiree Ann Wood is president of Real Women in Trucking.