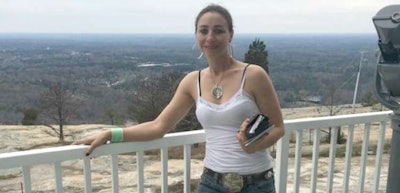 Truck driving has been a giant adventure for Daisy Delaney. It started about four years ago with a three-week, cross-country road trip hitching rides with six different truck drivers, and eventually led to her getting into the cab of a rig of her own.
Adventure aside, however, it's also been a humbling experience for Delaney, who's from Sheridan, Wyoming. When recent wildfires burned sections of Kansas, Oklahoma, Texas and eastern Colorado, the owner-operator and her 2006 Kenworth W900 and flatbed trailer were part of one of the many relief convoys out of Michigan that delivered aid to farmers.
"I don't think any of us that were the beginnings of the relief effort had any idea how big it was going to get or how much of an impact we were going to make, or what we were even walking into when we started this adventure. That has turned into an amazing journey of humility, humanity," Delaney said.
It meant a lot to Delaney to be able to be a part of something so much bigger than herself. She and dozens of fellow truckers delivered emergency supplies to the affected areas.
"To be involved in something that large, that brought so much hope and encouragement to other people — it was just a very humbling and honoring experience," she said.
Delaney says she's has always had a servant's heart. Before her career in trucking, she worked with teenage delinquents for the State of Texas. She wanted to help people, but felt like she wasn't getting to do that to her full ability in that role.
"When you work in that type of capacity with children in those facilities, it's very cold and callous and sterile. It's hard to treat the youth of today as a number so I was pretty frustrated with what I was doing and didn't feel like I was doing enough. I felt like I could've been doing a lot more doing something else with my life besides running kids through facilities like cattle," Delaney said.
One Wednesday in 2013 at 2:30 in the morning, she decided it was time for a change. She went to her local truck stop and approached the first driver she saw in the fuel bank. She asked him if she could ride along, and he said yes. Over the next three weeks Delaney would travel across the country in six different trucks.
"When it was all said and done, I came back and thought, I bet I can drive one of those. So I sold everything I had and got my CDL and I've never looked back," Delaney said.
Trucking, she says, is the biggest paid vacation a person could have. She likes to plan trips from her truck and has done everything from visiting Niagara Falls to wrestling alligators in Indiana.
"You're out here, you might as well take advantage of it. For me it's just like a big road trip," Delaney said. "For me, it's an exciting experience and a challenge. I get to see lots of places, meet tons of new people. It's put me in some really humbling and honoring positions."
Delaney was recently recognized by the Real Women in Trucking with their Queens of the Road award. The award is meant to be "a dignified recognition award for women who work as truck drivers that have not only overcome personal challenges, but who also have demonstrated a 'Pay it Forward' approach to help others by sharing their wisdom," according to the organization.