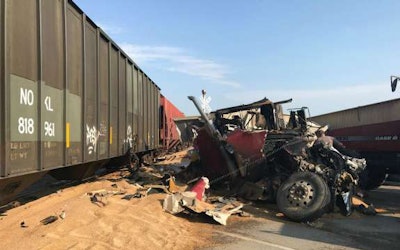 A 16-year-old South Dakota boy continues to recover in a Sioux Falls, South Dakota hospital after the truck and two trailers loaded with wheat he was driving crashed into a freight train locomotive Thursday, Aug. 17 .
The accident occurred at a railroad crossing Thursday afternoon in Blunt, South Dakota, which is about 20 miles northeast of Pierre.
Media coverage and family social media posts say Colt Brink was pinned in the cab of a 2000 Kenworth by wheat that spilled into it from one of the trailers. Two motorists — including an EMT — helped extricate Brink from the cab before it became engulfed in flames.
Two men on the train were uninjured, and helped in rescuing the boy trapped int he cab of the truck.
Here are Facebook posts by Brink's sister Madie about the accident: