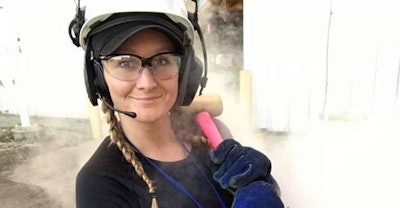 Company driver Christine Collins may have grown up around her trucking father's rigs, but she was hesitant about driving a tractor-trailer of her own at first. She had a healthy respect for what a rig could do, and had heard plenty of stories about drivers jackknifing and other road scares.
So when she first started driving, she drove a dump truck and then buses. She'd always been drawn to trucking, though, and she didn't mind the idea of traveling. Collins, from the East Chicago, Illinois area, got her Class A in 2015 and started driving over the road. She currently hauls liquid nitrogen for Cryogenics Transportation.
"I worked my butt off for about three years to get myself where I am right now. When you first start off in truck driving, it's not easy," Collins said.
She started driving team her second year trucking with one person, and then another for an additional year. Her team experience helped her get her foot in the door hauling tanker for Cryogenics.
"Once I started making decent money, I realized I could go by myself with it. I started going by myself and making decent money and have a great boss, and he got me home daily. I'm making decent money and I don't mind driving. It's easy to me. I enjoy it. I've also seen every part of this country," Collins said.
She says she likes hauling tanker because she's more active.
"I'm not always behind the wheel. I have to get out and unload it, load it, stuff like that. It's more active. You're not always just sitting down driving," Collins said.
She recommends other drivers considering getting into tankers take their time. She's seen plenty of people with experience wreck their careers because they made a mistake and turned their tanker over.
"My suggestion is take your time driving. Be careful. You've got too many people's live in your hands. Not only your own. Just take your time and get your sleep," Collins said. "You need it."
Collins says driving team can also helps drivers get the mileage and experience they need to go into tanker hauling.
"You have to be a really good driver to get even where I'm at. I had to get the experience in, but I got into Cryogenics, so I would suggest going team for a little bit to get enough experience and mileage. You get different avenues when you're team. They wouldn't have hired me into Cryogenics if I wasn't team because I didn't have the experience but my co-driver did. That's how I got my foot in the door, and then I was able to split off and become solo," she said.