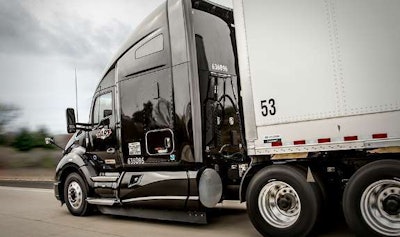 Tami Clark is a proud Dart company driver. So proud, in fact, that when she was asked to participate in a photoshoot for new advertising materials for the company, she was thrilled to have the opportunity even though she's usually not one to call attention to herself.
"I feel so honored that they picked me to be part of it, because I'm one of these that's always in the background and I don't draw attention to myself," Clark, from Lexington, North Carolina, said. "I've always been a mother. That's pretty much been my whole life, and as a mother you kind of take the back and allow your children to shine. So to have the opportunity for me to be able to shine for once, I was just so excited."
Clark says she is excited to be able to potentially recruit women to Dart. Her image could appear in a variety of advertising materials, including digital campaigns, posters and more.
"I love Dart so I am very thrilled to be able to advertise for them and possibly bring people in because they see a woman and say, 'Oh, well that woman's on there, so that means I as a woman can do this,'" Clark said. "It means a lot to me."
Clark, a mother of three, got her CDL in 2014. She and her then-husband had always talked about trucking once their children were grown, and when her father passed away she realized it was time for her to get out on the road. She runs a dedicated Procter & Gamble route, driving mostly in North Carolina and Ohio and occasionally Illinois and Missouri. Her routes put her home more often, giving her plenty of time with family.
"You pretty much know where you're going to be every day so you know where you can stop and how far you can get. Being home every day and being able to see family is probably the biggest pro I could think of," Clark said.
Clark encourages women pursuing trucking to not let any nay-sayers hold them back. Don't let people tell you that you can't do it, she says.
"Even when you're having a bad day and you don't think you're doing right, be proud of yourself. Be proud of yourself for doing what you're doing," Clark said.
Clark's love for travel is what initially drew her to trucking. Her favorite road memories include driving through Utah and seeing the different colors of each layer of the canyons, and seeing the Rocky Mountains with snow along the tops.
"Some of the sunrises are absolutely beautiful out here," Clark said.
Clark loves nature and spends her downtime four-wheeling with a group of friends on ATVs. A friend introduced her to four-wheeling in 2009, and Clark loved it and quickly bought her own ATV.
"That's what they did on the weekend and they invited me to go. They had an extra four-wheeler and it was just so much fun that I just started doing it as much as I could. It's kind of a getaway for the weekend from everybody. Now that's how I relax," Clark said.