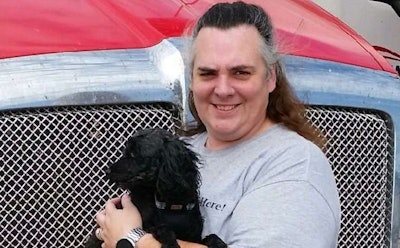 Dianna Palmer first told her mother she wanted to drive trucks when she was 4 years old, after receiving a toy truck for her birthday. Her mother said she would grow out of it, but mom was wrong.
She didn't start driving trucks right away, however. When she first got her CDL in 1994, she was driving buses. Palmer now drives a straight truck for a fleet owner with her husband, Matthew, who is her team driving partner.
The training for driving buses was offered by her local school district for free. After four years, she'd graduated to driving tour buses. She was sent to pick up a new bus and drive it from Atlanta to San Francisco with no passengers. The trip reminded her how much she wanted to drive trucks.
"I didn't have to time my bathroom breaks with other people. I could sleep when I wanted to. It was really that freedom that made me decide okay, I've got to get into trucking now," Palmer, from Temple, Texas, said.
Driving buses helped prepare Palmer for trucking in some ways, but it also handicapped her in others, she says. The bus she was driving was a manual, so when she started to drive trucks she already knew how to shift. Buses and trucks are also about the same width, so she was already familiar with how to position herself in the lanes. Backing up the truck, though, was a completely different game.
"When it came to backing, my instincts were backwards. It took me about three years to finally get comfortable backing a truck up after I'd been backing up a bus for four years. It handicapped me on the backing portion," Palmer said.
Palmer and her husband switched from driving tractor-trailers to a straight truck just a few weeks ago, and she says she's liked the switch because their schedule isn't as packed. They're able to stop and enjoy the places they're driving through more.
"Because we're in the smaller vehicle, we can actually go places and get into them easily enough. Going into a movie theater and watching a movie is a whole lot easier," Palmer said. "I don't have to scope out the Walmarts before I get there to make sure I know how I'm going to get in and out. I can actually just look for RV parking because I know we could park there if we wanted to."
She says she misses the days when there was more camaraderie between truckers. She has memories of meeting up with other truckers while waiting for a load to come across the boarder, and they'd hop in a truck together and go to the mall. One morning, she woke up to find herself shrink-wrapped into her truck because there had been a water gun fight in the truck parking lot the night before and she'd brought a super soaker. She didn't fight fair.
While that sort of connectedness is gone, she keeps on trucking. She's tried to leave the industry twice, but each time she's felt the pull of the open road and returned.
"At one point I had an office job with a cubicle. It drove me nuts," Palmer said. "I didn't even last a year before I was like okay, I've got to get back into driving. I literally go insane. My husband will tell me, 'Just go back to driving trucks.' One time I said I want to be home with you, and he said, 'No, go back to driving truck. You're happier when you drive trucks.'"
Palmer's brother, Jeramy Courter, recognized her with an iLuvMyTrucker nomination at the Truckers News booth during the Great American Trucking Show in Dallas. Courter had this to say about his sister: "Dianna has been driving long haul for 20 years. During that time she has found time to meet and marry a good man and has still made time for her family. She is a strong woman, respected by her whole family and company."