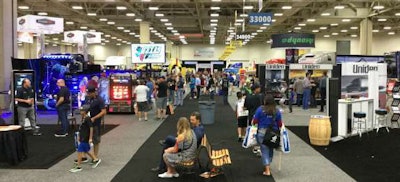 Another Great American Trucking Show is in the record books, but memories of what occurred for three days at the Kay Bailey Hutchison Convention Center in Dallas will linger for quite some time.
GATS 2017 was filled with entertainment, accomplishments, announcements and trucks — lots of trucks.
There were a lot of winners in Dallas during GATS last Thursday through Saturday.
Mississippi-based owner-operator Richard Woods won the 2017 Overdrive-Red Eye Radio's Trucker Talent Search finale Friday. The three-judge panel named Woods the winner after a sing-off style competition with the other two finalists, Michael Lochmiller and Terrance Mathis. Woods won $1,000 cash and a recording session with AxleOutPro.
Daniel Shonebarger, a flatbed driver for Melton Truck Lines was named the 2017 Trucking's Top Rookie award winner during a ceremony Friday at the show. Shonebarger, who attended the Georgia Driving Academy won $10,000 and a package of other prizes.
Also at GATS, Best of Show winners were announced in five categories of the Pride and Polish truck show. Winners were chosen for working bobtail, working combo, limited-mileage bobtail, limited-mileage combo and builders class, along with the People's Choice winner.
But, it wasn't only trucks that got recognized at GATS. Dave Nemo, a broadcaster with several radio programs for nearly 30 years, was honored Friday at the Great American Trucking Show. Nemo started on AM radio in the 1980s, and now hosts a daily show on Sirius XM's Road Dog Trucking station.
Also at the show:
The mascot of the Trucking Moves America Forward campaign of the American Trucking Associations got an official name: Safety Sammy.
It was announced that truckers had lost a combined total of 1,074 pounds in the MATS 2 GATS weight loss challenge.
Scott Jordan, an owner-operator from Peculiar, Missouri, was the winner of the 2017 Harley-Davidson Roadster 1200 given away today at the KeepTruckin booth.
A variety of new products and services were rolled out. Rand McNally introduced three new products, Minimizer showed off a new mattress for trucks and Magellan showcased its partnership with Samsung. A new app making pickups and deliveries easier was rolled out.