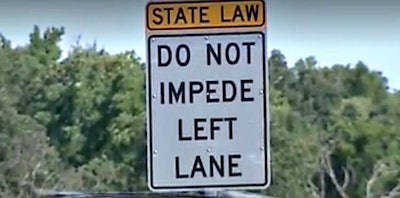 Be careful trucking through Oklahoma as the state just changed the rules on how you can use the left lanes of its freeways. It can get expensive if you break the law, too.
As of Wednesday, Nov. 1, it's against the law to drive in the left lane. Now, drivers can only use the left lane of a freeway to pass another vehicle.
Break the law and get caught, the ticket can go as high as $235.
The Oklahoma Department of Transportation has installed "slower traffic keep right" and "do not impede left lane" signs in 234 locations along I-35 and I-40 from state line to state line, except in the metro area.
"Any step we can take to improve safety on our roadways is worth our collective efforts," Public Safety Commissioner Michael C. Thompson said. "As we are all well aware from recent events in the news, our roadways are increasingly volatile. It doesn't take much for a minor traffic disagreement to escalate into a deadly road rage incident with tragic results. I am hopeful this legislation will reduce tension and also result in better access for public safety and first responder officials driving to emergency situations."