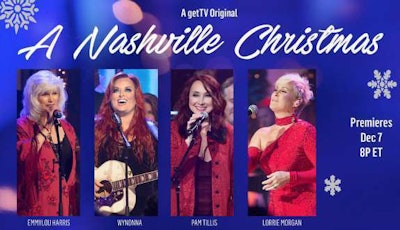 Take a look at the lineup of country stars joining forces for the TV special and you'll think Christmas came early.
A Nashville Christmas, which airs at 8 p.m. Dec. 7 on the getTV cable channel (check your local listings) features a galaxy of country, bluegrass and gospel hit makers including:
Wynnoa
EmilyLou Harris
Pam Tillis
Lorrie Morgan
Ashley Cleveland
Dailey & Vincent
The musical special is part of getTV's third annual "Most Wonderful Month of the Year" celebration, which include:
The Secret of Giving, the TV movie starring Reba McEntire, premiering Thanksgiving evening, Thursday, Nov 23 at 8 p.m. Eastern.
Yes Virginia, There is a Santa Claus," starring Richard Thomas, Charles Bronson and Ed Asner, premiering Sunday, Nov. 26 at 8 p.m.
Christmas on Division Street starring Fred Savage and Hume Cronyn, premiering Monday, Dec. 4 at 8 p.m.
Johnny Cash Christmas 1983, featuring guest stars Merle Haggard and Ricky Skaggs, premiering Thursday, Dec. 7 at 9 p.m.
Vanessa Williams and Friends: Christmas in New York, with guest stars Shania Twain, Phil Collins, Luther Vandross and Babyface, premiering Tuesday, Nov. 28 at 8 p.m.