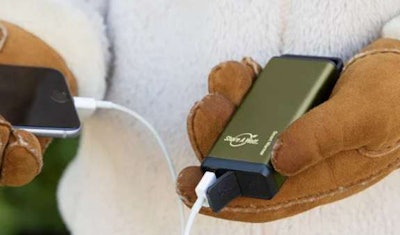 If you're like us, you appreciate a tool or gadget that does more than one thing. Or, like us again, you're frugal and prefer to pay once and get twice the use out of an item.
If so, you'll appreciate the Smart Warmer, which solves two problems that can put a damper on your work day: cold hands and a mobile device that runs out of juice. The Smart Warmer is a pocket-sized hand-warmer that also can be used to recharge one of your mobile devices.
The 4400 mAh Smart Warmer charges a phone twice or warms your hands for about five hours. (Note: It cannot do both at the same time.). The 2000 mAh model provides one charge or about four hours of warm hands.
Order online. The 4400 mAh Smart Warmer is $29.95 and the 2000 mAh model is $24.95.