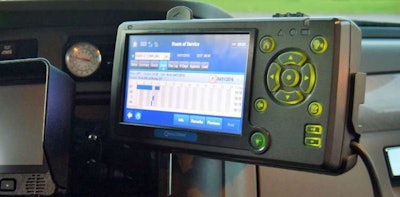 Less than a month before the electronic logging device mandate's initial enforcement deadline of Dec. 18, the Owner-Operator Independent Drivers Association has filed a request with the Federal Motor Carrier Safety Administration for an at least five-year small business exemption from the mandate's requirements.
The request came earlier this week and just a day after the FMCSA announced it would soon publish details of a 90-day extension of the enforcement date specifically for agricultural haulers.
If granted, OOIDA's request would go well beyond that extension and exempt from the mandate motor carriers who fit the Small Business Administration's definition of a small business in truck transportation, an entity with $27.5 million or less in gross annual receipts. It would include only such carriers which "do not have a Carrier Safety Rating of 'Unsatisfactory,' and can document a proven history of safety performance with no attributable at-fault crashes,'" the association's exemption request states. "The exemption would not have any adverse impacts on operational safety, as motor carriers and drivers would remain subject to the [hours] regulations."
OOIDA cites numerous concerns in justifying its request, from a lack of comprehensive government or independent third-party vetting of many of the nearly 200 self-certified ELDs currently on FMCSA's registry to continued concerns about cybersecurity.
The association also disputed the notion that safety on U.S. highways would be materially improved by mandating ELDs. With the rule's release, FMCSA estimated 26 lives saved annually as a result, likewise the avoidance of "562 injuries, and 1,844 crashes. … In this analysis," OOIDA's exemption request states, "the Agency assumes that compliance with the [hours of service] regulations will decrease crashes and therefore show a benefit that outweighs the costs associated with purchasing and installing ELDs. FMCSA attempted to validate these benefits through a convoluted mathematical analysis founded upon assumptions, while also utilizing an extremely small and outdated data set."