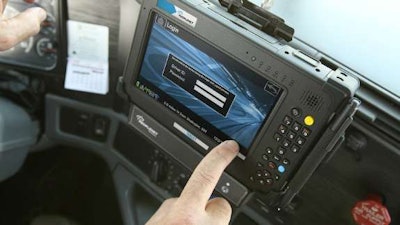 A major trucking-related organization is banding together with 29 other organizations and one business to continue its assault on the mandated installation of electronic logging devices.
The Owner-Operator Independent Drivers Association Wednesday announced the formation of a coalition to back a two-year delay of the Dec. 18 ELD mandate compliance deadline. The coalition supports a bill introduced in the U.S. House earlier this year by Rep. Brian Babin (R-Texas) that would bump the ELD mandate's adoption deadline to December 2019.
The new coalition includes industry trade groups representing agriculture, petroleum, utility contractors, and other interests — groups OOIDA says would "be negatively impacted by the mandate."
The sole business in the coalition is Lucas Oil Products.
The coalition includes:
Agricultural Retailers Association
American Pipeline Contractors Association
American Pyrotechnics Association
Associated Equipment Distributors
Distribution Contractors Association
Livestock Exporters Association of the USA
Lucas Oil Products
Mid-West Truckers Association
National Association of Chemical Distributors
National Association of Small Trucking Companies
National Aquaculture Association
National Corn Growers Association
National Cotton Council
National Electrical Contractors Association
National Federation of Independent Business
National Grain and Feed Association
National Ground Water Association
National Hay Association
National Motorists Association
National Precast Concrete Association
National Ready Mixed Concrete Association
National Stone, Sand & Gravel Association
New England Fuel Institute
North American Wood Pole Council
Owner-Operator Independent Drivers Association
Petroleum Marketers Association of America
Power & Communication Contractors Association
Precast/Prestressed Concrete Institute
SikhsPAC
Southern Pressure Treaters' Association
United States Cattlemen's Association