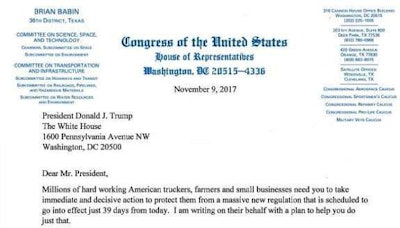 The Texas congressman who authored legislation to delay mandated installation of electronic logging devices Thursday asked President Trump to intercede directly to push back the deadline for the devices.
Rep. Brian Babin (R-Texas) posted the letter to the president on his Facebook page. It asks Trump to issue an executive order to delay enforcement of the Dec. 18 mandate to at least until April 1 of next year. April 1 is the date federal and state law enforcement officials have said they will begin enforcing the Commercial Vehicle Safety Alliance's out-of-service criteria around use of ELDs.
In his letter, Babin said he consulted the Congressional Research Service to determine if such a delay would be within the purview of the executive branch. The service said it would be.
"My preference," Babin writes, "would be to delay the rule for as long as it takes, but at a bare minimum, I would encourage an initial waiver for all sectors until April 1, 2018." The Congressman asked for a response from the [resident by Dec. 1.
The approximately three-month delay, in addition to conforming with the CVSA-approved out-of-service criteria enforcement delay, would eliminate "the very predictable havoc of trying to implement this massive, complicated regulation just a week before Christmas -– perhaps the busiest time for the consumer freight network of the year," Babin writes. He adds, "A few powerful interests will tell you that this mandate is good for trucking, and our country, but millions of hardworking people across our country who came together exactly one year ago to elect you president profoundly disagree."
He went on to cite concerns with the cybersecurity, cost and truck-safety implications of the mandate.
Babin's bill has 64 cosponsors.