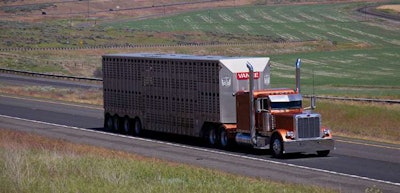 Truckers hauling livestock and other agriculture products will have 90 extra days to comply with the DOT's electronic logging device mandate, the Federal Motor Carrier Safety Administration announced Monday.
FMCSA will soon publish a public notice in the Federal Register announcing the compliance extension, as well as a notice with fresh guidance for livestock haulers relative to both the ELD mandate and hours of service, said Joe Delorenzo, FMCSA's director of compliance and enforcement, in a media briefing held Monday afternoon.
The ELD mandate calls for most trucks to use ELDs instead of paper logs starting Dec. 18.
The notice will include a definition of the drivers who will receive the 90-day waiver. Delorenzo said the definition of a livestock hauler will lean on a definition established in the 1980s by the U.S. Department of Agriculture, which defines livestock as "… cattle, elk, reindeer, bison, horses, deer, sheep, goats, swine, poultry (including egg-producing poultry), fish used for food and other animals designated … that are part of a foundation herd or offspring."
The waiver's scope will be broader than that and extend to ag haulers who don't haul livestock.
Delorenzo said the compliance extension stems from ongoing discussions with those in the ag transporting business. A coalition of groups representing livestock haulers petitioned the agency in late October to request a compliance extension.
The National Pork Producers Council and other groups told FMCSA in its Oct. 30 request that livestock haulers will not be prepared to meet the Dec. 18 deadline. Its concerns stem from "an incompatibility" between federal hours regs and livestockers' operations — a concern noted by Delorenzo in Monday's briefing.
Texas Representative Brian Babin, who introduced the H.R. 3282 "ELD Extension Act" bill proposed to delay the mandate two years, applauded the DOT's action to grant the 90-day extension to the ag sector. Yet Babin, who has in recent weeks asked for a broader extension by executive order of the Trump administration, emphasized he feels the ag extension doesn't go far enough.
Delorenzo also said the agency will soon publish new guidance for personal conveyance operations under the ELD mandate. The guidance will define "when a movement by a driver and carrier is not subject to hours of service regulations," he said.