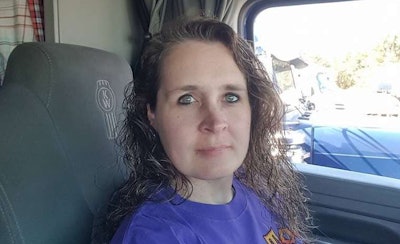 An ex-boyfriend told Kristi Givens she didn't have what it takes to become a truck driver, so she set out to prove him wrong.
When they broke up, she applied to a trucking school in Washington State and got her CDL in 2014. Givens, from Joshua, Texas, now drives for American Central Transport hauling general freight.
"When that relationship ended, I went to Washington State to my best friend. I had three regular job interviews up there the next morning when I got there and she looked at me and said, 'You just want to go get your CDL and we'll just drive trucks?' and I said, 'Sure!' I've been doing it ever since," Givens said.
Her favorite part of trucking is the good, stable income. If you're comfortable with driving and don't mind staying out and away from family, then you can make good money in trucking, she says. Her three children are older, which helped making the transition into trucking easier for her. She has two daughters, ages 18 and 23, and one 17-year-old son.
"As long as you do what you're told, you can make money, even with the ELDs and everything," Givens said.
As an over-the-road driver, she's been all over the United States. Her favorite part of the country is the Northwest, specifically I-84 through Oregon and Utah.
"My favorite place is in that area where you've got the mountains on one side and you've got the river on the other," Givens said.
Givens divides her free time between her home in Texas and her company's terminal in Kansas City, Missouri. She visits with her family in Texas and with friends and her boyfriend in Kansas City.
Givens says a woman interested in trucking shouldn't let anyone tell her they aren't good enough.
"I would tell her to do it. If she truly wants to do it, she should do it. Don't let a male figure tell her that she can't do it," Givens said. "That's the reason I got into it. It was to prove him wrong, and I've done that. I love what I do. I really do."