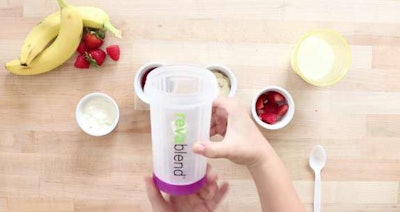 Want your morning smoothie, but have no power? No problem.
The Revablend Non-electric Portable Blender lets you whip up your favorite smoothie — or any other blended drink or batter — with just your hands.
All you do is fill the Revablend, and then place it on a 30-degree angle on any smooth surface and roll it back and forth. The three stainless steel blades do the hard work. It can be used to puree fruits and vegetables for other recipes and make dressings as well.
The BPA-free polypropylene plastic bottle comes with a spill resistant flip top lid.