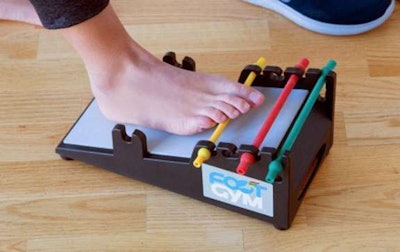 You worry about your abs, your glutes, your quads and your traps. But, what about your feet?
Yes, your feet. Almost everything you do in the course of your day when not sitting depends on healthy and supportive feet, and the Foot Gym an help you keep them in shape. It can also help you get over any weakness or injury.
The angled platform has a non-slip, anti-microbial footpad, with three levels of resistance bands for light, medium, or firm workouts. There's a massage roller, and exercise instructions as well.
The makers say a user can help "alleviate plantar fasciitis, boost your balance and more with this all-in-one workout system for feet and ankles." There are seven exercises and stretches that help improve strength and stability.
The massage roller can be filled with water and frozen or filled with warm water for soothing massage therapy and pain relief.