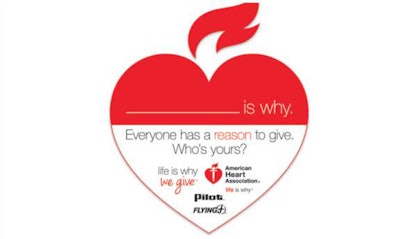 Pilot Flying J supports the American Heart Association's "Life Is Why We Give" fundraising campaign during February, which is American Heart Month.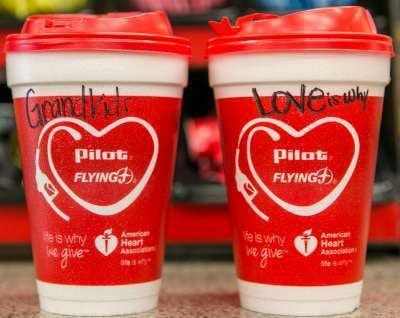 For the rest of the month, Pilot Flying J's fundraising initiatives include:
Pilot Flying J will offer special AHA Red 16-ounce hot beverage cups at all locations (excluding CA). Each special edition 16-ounce cup will be sold for an additional 10 cents and Pilot Flying J will match each 10-cent donation for a total contribution of 20 cents per cup going directly toward the campaign.
$1, $3 and $5 red paper hearts will be available for purchase at all locations. The full amount purchased will be donated to the AHA.
Guests can round up their purchase to the nearest whole dollar, and Pilot Flying J will donate the full amount of each round-up to the AHA.
On Wednesday, Feb. 14, guests can buy two half liter bottles of Nestlé Pure Life water for $2 and Nestlé Waters will contribute $1 of each purchase, up to $10,000, to AHA.
A donation link is included on the Pilot Flying J website throughout the month of February to provide guests an easy donation access point.
"At Pilot Flying J, we value the importance of heart health and healthy lifestyles for our team members and guests," said Ken Parent, president of Pilot Flying J and AHA board member. "We are honored to take part in the American Heart Association's Life is Why We Give campaign and are excited to bring it to life in our stores and offices, inviting our team members and guests to join us in our effort to contribute toward a healthier tomorrow for all those impacted by heart disease and stroke."