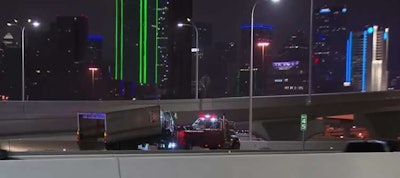 Federal investigators are calling the shooting death of a U.S. Postal Service truck driver on I-30 in Dallas Feb. 19 the result of road rage.
A detailed statement issued late last week by U.S. Attorney Erin Nealy Cox of the Northern District of Texas says Donnie Arlondo Ferrell, 25, used a handgun to fire three shots at the truck driven by 58-year-old Tony Mosby. One of the shots struck Mosby in the head, killing him.
Ferrell was arrested at his home in Hutchins, Texas Feb 22. He is charged with the murder of a federal employee in the performance of official duties. Ferrell appeared Feb. 22 before U.S. Magistrate Judge Rebecca Rutherford.
The statement from the U.S. Attorney's office said:
According to the affidavit filed with the criminal complaint, on February 19, 2018, shortly after 2:00 a.m., an United States Postal Service ("USPS") employee left the Dallas Main Post Office in a USPS box truck.  Minutes later, at least three gunshots were fired at the USPS employee and his truck.  One of the shots fatally struck him in his head.
On the morning of February 21, 2018, two individuals visited the FBI's office in Fort Worth, Texas, and stated that they had information related to the killing.
According to interviews of the two individuals, on the night of February 18, 2018, they met two other individuals, including Ferrell, at a restaurant in Dallas, Texas. Later that night, after several stops, all four of these individuals left a pool hall in Dallas at approximately 1:30 a.m. in the early morning of February 19, 2018.  Ferrell was sitting in the front passenger seat of the vehicle.
According to additional information provided during the interview, the driver of the vehicle began driving erratically and, at one point, was right behind a large USPS truck.  The driver attempted to drive the vehicle around the USPS truck by passing it on the truck's left hand side.  Moments later, Ferrell fired several shots from a handgun in the direction of the USPS truck. The occupants of the vehicle observed smoke and sparks coming from the truck and the truck eventually crashing into the barrier. One of the occupants asked Ferrell why he had shot the gun toward the truck and Ferrell responded that the driver of the USPS truck had made a hand gesture towards their vehicle and that angered him.
If found guilty, Ferrell faces up to life in prison and a $250,000 fine.
"While our family of federal employees is saddened by the tragic loss of one of our own, I am proud of the cooperative effort by our federal and local law enforcement partners to solve this heinous crime, especially the United States Postal Inspection Service and the Dallas Police Department," said U.S. Attorney Nealy Cox. "With this arrest, we take a crucial step towards ensuring that the person allegedly responsible for this senseless murder is brought to justice."