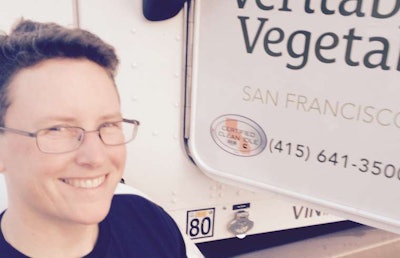 Company driver Laura Parker, from Portland, Oregon, says finding a woman-owned fleet to work for was one of the best career decisions she's made. She's hauled organic produce for Veritable Vegetable, a small woman-owned fleet headquartered in San Francisco, for the past 16 years and plans to drive for them for the rest of her career.
"They get it. They get how it's hard to be a woman in the trucking industry but they're making it work and they're well-respected and well-known because of it," Parker said.
Veritable Vegetable's compassion is what sets them apart, Parker said. The owner and CEO Mary Jane Evans was a truck driver. She understands the industry because she sat in the driver's seat before.
"I've been there for 16 years and I'm not ever going to drive for anybody else because they take such good care of me," Parker said.
So how can other women find good trucking companies to work for? Parker says the key is to ask a lot of questions. She recommends asking questions about the company's training programs, home time, family leave, its harassment policies, safety policy, breakdown policy and more.
"I went to Veritable knowing they had brand new equipment, an on-call mechanic, my fleet manager I can call, a dispatch 24 hours a day. I had the support," Parker said. "When I had an accident last year, they took care of me. They came and got me. They care. Do they care that my mom is sick? Yeah, they do. Some companies don't care."
The company culture isn't the only thing Parker likes about working for her fleet. Hauling organic produce means she has job security. Even when the economy has gone through rough patches, she's always had a full truck.
"People need to eat so no matter how hard the economy is, people are still going to buy food and want fresh produce. In my industry, organic is a big thing. More and more farmers are growing organic. You see more and more stores with it," Parker said.
Parker enjoys the people she gets to meet through truck driving. She started her trucking career in 1994 and still looks forward to driving each day.
"I get up every morning and I really look forward to coming out here. I get to drive a brand new truck and trailer. I get to drive in the Southwest. It's the customers and its my farmer that I really just enjoy so much. I can't imagine not doing it. It keeps me happy," Parker said.