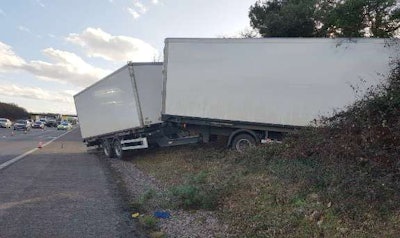 A woman driver in England is being credited with saving the life of a fellow truck driver and averting what could have been a major pileup on a busy motorway in the southern part of the country.
Dawn Leonard, 52, and a driver for DHL, March 8 used her truck to direct an out-of-control tractor-trailer onto the shoulder of the busy highway and bring it to a safe stop after finding the driver was having a medical problem at the wheel.
Leonard was northbound on the M5 motorway when she notice traffic problems ahead of her. Leonard told Somersetlive.com:
"There were lots of cars stopping and I could see a lorry in the outside lane that seemed to be in some difficulty.
"The vehicle drifted towards the inside lane so I assumed he was going to pull over, when he suddenly began to veer towards the central reservation (the median).
"I had to do something to stop him hitting the central reservation or other cars, or else something awful was going to happen.
Leonard positioned her truck between the highway's central barrier and the weaving tractor-trailer. She made contact with the other truck to slow it down and eventually forced it to the shoulder where it stopped.
The driver in distress received medical care and received no further injuries.
An officer for Avon and Somerset Constabulary said of Leonard, "She demonstrated her professional driving skills and quick thinking to avoid the incident that could have led to serious or fatal consequences for members of the public."