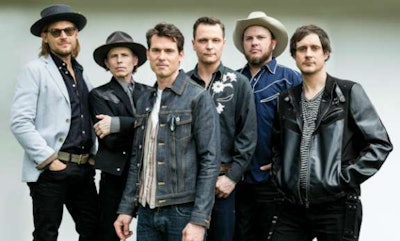 OK, let's try to pin down what sort of music Old Crow Medicine Show performs. Is it:
Americana?
Old-Time?
Folk?
Bluegrass?
Alternative County?
Folk-Country?
The answer might just be "yes" to all of the above, and then some as evidenced by the band's latest album, Volunteer, which arrived last week. Volunteer is the band's sixth studio album, and was recorded at the historic RCA Studio A in Nashville. It was produced by Dave Cobb, who has produced Jason Isbell and Christ Stapleton, and arrives just as the band celebrates 20 years together.
Volunteer comes out almost exactly a year since their last recording, 50 Years of Blonde on Blonde, a tribute and reimagining of Bob Dylan's landmark album that included Rainy Day Women #12 & 35, Stuck Inside of Mobile With the Memphis Blues Again, I Want You, Just Like A Woman, Visions of Johanna, and Sad Eyed Lady of the Lowlands.
In a story about Volunteer, The New York Times wrote the album is filled "with folk-rock testaments to dreaming and striving, tall tales of earthy heroism and galvanizing hoedowns powered by the group's vigorously played acoustic instruments — including fiddle, banjo, mandolin and upright bass — and drums."
Cuts include:
1. "Flicker & Shine"
2. "A World Away"
3. "Child of the Mississippi
4. "Dixie Avenue"
5. " Look Away"
6. "Shout Mountain Music"
7. "The Good Stuff"
8. "Old Hickory"
9. "Homecoming Party"
10. "Elzick's Farewell"
11. "Whirlwind"