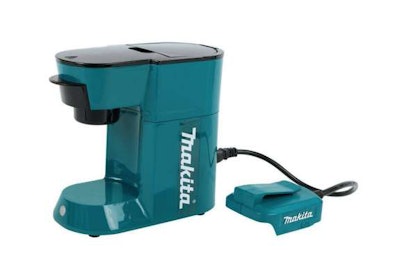 Some say the American trucking industry runs on diesel.
Others, those who think about the trucker before the truck, know it is fueled by coffee.
While every travel plaza, truck stop and roadside diner worth its salt (and pepper) can deliver a decent cup of Joe, many are the times when no such place is at hand when the call for "Caffeine!" is sounded.
That problem is quickly and easily solved — and at a reasonable price — with a coffeemaker well suited for the demands of the OTR trucker. Made by the company well known for its rugged power tools, the Makita DM500Z coffeemaker will fit well in most any truck.
While it comes with a cord for conventional power, the Makita DM500Z is also made to run off the lithium-ion batteries used to run its drills, sanders and other job site necessities. The company says it will produce up to 5.3 cups of coffee from one fully-charged power tool battery. It can be used with ground coffee or Makita's own coffee packs.
And, it won't bust your budget: $39.99 online. (Battery and charger are extra.)