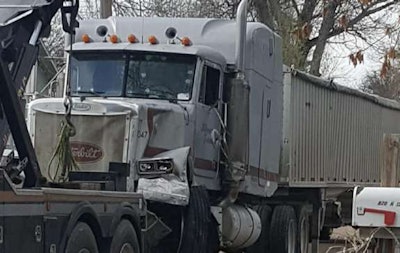 Several people were injured and numerous vehicles — including two police cars — were damaged over the weekend when a man stole a tractor-trailer and led police from three different agencies on a wild chase through several communities northeast of Denver.
The man, who has yet to be identified by police, apparently stole the rig in the city of Sterling Saturday. In the end:
10 vehicles were damaged or destroyed
four people, including a police officer, were treated for injuries
a pedestrian was almost run down in a travel plaza
a power pole, street signs, trees and curbs were damaged
police from two different agencies fired shots at the truck
The mayhem ended in the city of Brush when the suspect leapt from the still-moving truck and ran into a house, where he was subdued by the homeowner and arrested by police, according to one media report of the incident. After being treated for minor injuries in a hospital, the suspect was held in the Morgan County jail.
Police organizations involved in the incident posted details of the event on their Facebook pages. It includes this account:
The semi was apparently stolen from around Sterling and was initially pursued by Sterling Police, and later by the Logan County Sheriff's Office, where the pursuit entered Morgan County.
Law enforcement chased the truck through Brush and west on Highway 34, striking another vehicle and injuring that driver. The truck continued to Barlow Road in Fort Morgan, where a parked and occupied Fort Morgan Police car was rammed at Riverview Avenue, injuring the officer.
Continuing east on I-76, the truck exited the interstate at Hospital Road, and drove through Love's Truck Stop, nearly hitting a pedestrian, before continuing down Hospital Road to Mill Street.
At the Brush Middle School, the truck attempted to run down a Brush Police officer, who fired at the driver. The truck rammed and destroyed that officer's unoccupied patrol car.
As the truck turned south on Colorado Avenue, it drove into the oncoming lanes of traffic and struck a northbound car head-on, injuring both occupants.
A few blocks away, it struck another vehicle near Cameron and Eaton Street, injuring one of the two occupants. That vehicle was pushed into a tree and rolled onto its side, up against a house and a fence.
Continuing down city streets, the driver jumped from the moving semi in the 800 Block of Custer Street and it crashed into two parked vehicles in a front yard. The driver ran into a house at that location before being taken into custody.
Law enforcement also fired on the driver on Highway 34 and inside Brush as they attempted to prevent him from injuring people.