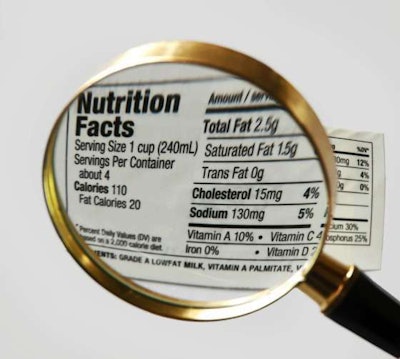 The Food and Drug Administration has extended the deadline for compliance with a federal rule revising Nutrition Facts labels by 18 months.
The FDA announced in 2016 that it was changing the Nutrition Facts labels, which have not been changed since 1993, to better accommodate modern consumers and scientific evidence. The original compliance deadline was July 26 of this year but has now been extended to Jan. 1, 2020.
Food manufacturers who bring in less than $10 million in annual food sales have until Jan. 1, 2021 to comply. The deadline was extended to give the FDA additional time to provide food manufacturers guidance on technical questions the government organization has received following the publication of the final rule.
Key changes to the Nutrition Facts label include:
Increased type size for "Calories," "servings per container" and "Serving Size"
Number of calories and serving sizes will be printed in bold type
Declared amounts for percent Daily Value of vitamin D, calcium, iron and potassium
An updated percent Daily Value footnote that will read: "*The % Daily Value tells you how much a nutrient in a serving of food contributes to a daily diet. 2,000 calories a day is used for general nutrition advice."
"Added sugars" will be included in grams and as percent Daily Value
Vitamins A and C will no longer be required on the labeling
"Calories from Fat" will be removed
Updated daily values for sodium, dietary fiber and vitamin D based on newer scientific evidence
Serving sizes will be based on amounts of food and beverages that individuals consume, not how much they should consume
Packages between one and two servings will have nutrients labeled as one servings, since they are typically consumed in one sitting
Dual column labels will appear on products larger than a single serving that could be consumed in one sitting or multiple sittings