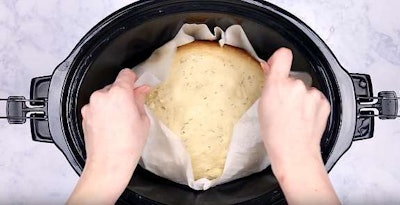 Unless your route takes you to a truck stop that has a bakery or there is one near an exit off the interstate, you're usually stuck with some pretty mediocre bread while driving, nothing worthy of being called "the staff of life."
However, if your truck has a slow-cooker and a few modest ingredients, you can have a pretty good imitation of homemade bread.
This recipe from the Brooklyn Farm Girl blog is about as easy as it gets, yet delivers the kind of bread you'd be pleased to serve your grandmother, who knows good bread when she eats it.
All it takes is two hours on high in your slow-cooker to give you butter-meltingly warm bread when you break for dinner. About the only thing you might not have in your cab's pantry is some parchment paper, so be sure to grab some before you hit the road.
Get the recipe and all the details.
And, here are recipes for some other breads you can make in your slow-cooker.