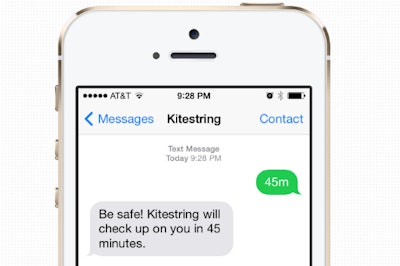 If you are like most of us, you have had someone in your life — a parent or friend or concerned coworker — who took it upon themselves to make sure you got where you were going safely.
"Call me when you get there …" was their parting comment to you.
Now that you are grown, on your own and driving hundreds of miles a day, often in unfamiliar territory, Kitestring can be that concerned "person."
Kitestring is a relatively simple service that checks up on you at some predetermined time(s). For example, say you expect to reach your destination at 7 p.m., Kitestring will send you a text to be sure you got there. All you have to do is reply to the text or check in on the Kitestring website to let the service know you're OK.
If you don't check in — or revise your arrival time beforehand — Kitestring alerts the emergency contacts you have designated.
The makers of Kitestring say they were motivated to create the service after a friend who lived in a sketchy neighborhood of San Francisco asked them to check up on them when they walked home from work.
They explained, "But, since the launch of Kitestring, many different people have found creative ways to use Kitestring – ways that we never anticipated when we first launched. We've heard from real estate agents, online daters, outdoor adventurers, motorcyclists, military spouses, single parents, the LGBTQ community, senior citizens living alone, college students and many more!"
Kitestring is free for three trips a month and messages sent to one emergency contact. For $3 per month, it covers an unlimited number of trips, alerts as many contacts as you wish and will check up on you as often as you wish.