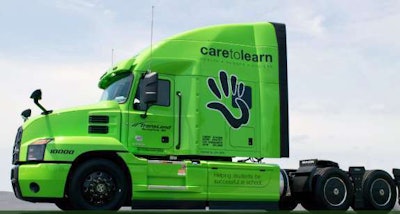 A woman driver will be at the wheel of a special truck that will be used to raise money for and awareness of a Missouri children's charity.
TransLand, a truckload and logistics services provider based in Springfield, Missouri, recently added a bright green Mack Anthem to its fleet to handle a very special job. Designated as a community truck, for every mile the new Anthem travels delivering goods to customers, TransLand will donate 5 cents to Care to Learn, a nonprofit that provides for the health, hunger and hygiene needs of students throughout Missouri.
The Care to Learn truck will be driven by TransLand driver Molly Shultz, who will also serve as a spokesperson for the partnership with Care to Learn. The position was open to all of TransLand's drivers, with Shultz being selected for her 22 years of driving experience, outstanding safety record, and passion for serving her community, according to the company.
"Our professional truck drivers want to be in this Care to Learn Anthem," said Mark Walker, TransLand chairman and CEO. "With its custom graphics, custom wheels, and interior choices, it is a showstopper. The truck is definitely turning heads, which in turn puts attention on the charity and the company making it all happen."
Founded in 2008 by Springfield native Doug Pitt, brother of actor Brad Pitt, Care to Learn has more than 30 chapters serving thousands of children throughout Missouri. Pitt, shocked at the ways poverty had ravished his hometown and the effect on local children, shared his concerns and vision with other community leaders, who responded to the need by setting up a fund to help.
"TransLand is excited to add these new Mack Anthems to our fleet," said Walker. "We know we'll get measurable results in these trucks, and creating the green Care to Learn truck is generating outstanding synergy for TransLand and our community."
TransLand worked with Mack dealer Tri-State Truck Center in Springfield to prepare the Mack Anthem for service. The green truck is one of 30 new Mack Anthem models that the carrier is adding to its fleet this year. TransLand's fleet of 175 trucks, including its new Mack Anthems, travels all 48 contiguous states hauling dry van and flatbed loads.
"Mack is proud that TransLand chose the Mack Anthem to be the vehicle that supports this cause," said Jonathan Randall, Mack senior vice president, North American sales and marketing. "We provide the tools that enable our customers' success, and it's great to see them use those tools to make their communities stronger."