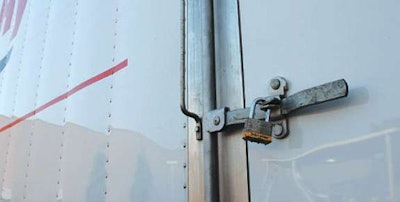 Cargo theft experts are warning truck drivers and fleets about the increased risk of theft this week during the Independence Day holiday.
Cargo theft recording firm SensiGuard says organized cargo theft rings will be looking for unattended loads during the holiday period. During the July 4 holiday periods between 2013 and 2017, SensiGuard recorded more than three thefts per day with an average loss value of $207,570 – a theft rate 38 percent higher and average loss value 20 percent higher than thefts throughout the rest of the year.
Scott Cornell, transportation business lead and crime and theft specialist for Travelers Insurance, says the majority of cargo thefts that occur during holiday periods happen on the first day a load is parked because it gives the thieves a longer timeframe to go unnoticed. With the upcoming holiday is in the middle of the week, Cornell says he hopes theft activity will be reduced.
Drivers hauling food and beverage commodities should consider taking extra precautions as those have been the most-stolen commodities for the last eight years, Cornell says.
"Thieves target what they know they can sell, and with food and beverages, the evidence disappears quickly because it is consumed," he adds. "These items aren't as traceable as electronics. There's no serial number on a pistachio."