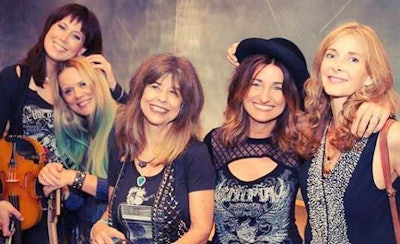 The Mustangs are back.
The all-female California country band has reformed after 20 years apart and returns with a new single that just dropped, T-Shirt from California.
The original Mustangs were part of the Los Angeles alt-country scene in the 1980s and '90s, opening for Rosie Flores, Jim Lauderdale, and Lucinda Williams. But, after seven years of gigging and touring, the band broke up in the mid-90s and eventually scattered to various cities.
Twenty years later, the Mustangs are back with a name change. They're now the Mustangs of the West, which include three of the original members, Sherry Rayn Barnett, Suzanna Spring, and Holly Montgomery. They've also added Suzanne Morissette and Aubrey Richmond.
The upcoming single, T-Shirt From California, is a sentimental song about love gone wrong, written by lead singer Suzanna Spring (co-written with Wes Hightower) and recorded at Taylor Made Studios.
"I wrote T-Shirt from California when I was living in Nashville and homesick for California," said Spring in a news release. "Sitting on my couch one morning, strumming my guitar, the chorus melody and chorus lyrics came through, almost complete. I took that chorus into a writing appointment with Wes Hightower, and we wrote verses and the story. He had the idea for those great Beach Boys harmonies in the chorus, and Mustangs of the West have such a beautiful vocal blend; it was natural that we'd record this song."