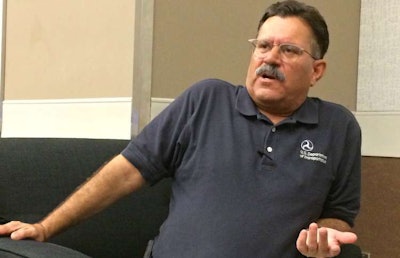 Ray Martinez wants you to take him at his word.
The administrator of the Federal Motor Carrier Safety Administration says he wants to hear what truckers have to say. That's why he was at the Great American Trucking Show in Dallas last week, the latest stop in his efforts to talk with truckers.
He held a casual meeting with reporters Friday and presided over two listening events at GATS, one on autonomous trucks and one on hours of service. He also spent time in the FMCSA booth at the show.
Martinez' GATS appearance came just a few days after his agency announced it was seeking comments on several issues that have raised the ire of truckers. FMCSA last Tuesday announced an advanced notice of proposed ruling making. Those issues include:
Expanding the current 100 air-mile "short-haul" exemption from 12 hours on-duty to 14 hours on-duty, in order to be consistent with the rules for long-haul truck drivers
Extending the current 14-hour on-duty limitation by up to two hours when a truck driver encounters adverse driving conditions
Revising the current mandatory 30-minute break for truck drivers after 8-hours of continuous driving
Reinstating the option for splitting up the required 10-hour off-duty rest break for drivers operating trucks that are equipped with a sleeper-berth compartment
"We put it (the ANPRM) out as questions," said Martinez. "What we committed to paper were the questions that we were hearing anecdotally from all the conferences we went to, the calls with different associations. The call at the driver level was, these are the basic things that we're hearing that would equal flexibility."
Martinez understands that not everyone is going to like or agree with all four of those items. Still, he wants to hear why.
"You don't have to like all of them," Martinez said. "You can like one and two but not three and four, that type of thing. And if you do like them, tell us why you think they're a good idea that would, number one, not have a negative effect on safety but possibly have a positive effect.
"These are the things that we kind of hear in talking to drivers and carriers. But in order to move forward in a regulatory process, (we) have to be able to articulate that and we have to look at data that backs it up."
Martinez told reporters that the FMCSA, like other federal agencies, moves at a slow pace. Not so with the current ANPRM.
"You'll note that we (set) a 30-day comment period, which is very aggressive," said Martinez. "Admittedly, we're doing that to send the message that we want to move on this. We want responses. We're hoping that anybody with an interest, whether it's the regulated community, safety stakeholders, anybody that cares about this issue (will) step forward and inform us. We want to move this on a fast track if possible."
Martinez made it clear that he wants to hear from people regardless of what they have to say.
"What we've said is a step forward," said Martinez. "I don't want to limit people. I don't want people to think, 'Well, I'm not going to respond because they're expecting a thesis of some sort.' Anything that can educate us about this would be helpful."