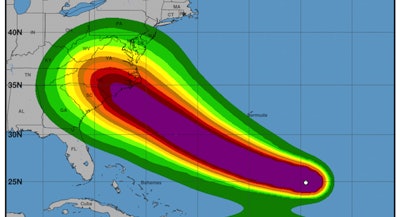 Hurricane Florence — a storm that could have an unprecedented impact on much of the Southeast — is headed toward the U.S. East Coast, prompting North Carolina, South Carolina, Virginia and Maryland to declare states of emergency in preparation.
Hurricane Florence is forecast to make landfall on the U.S. East Coast Thursday night as a major hurricane. The storm's track is uncertain, but several states are already readying resources in advance. Hurricane Florence is currently a Category Four hurricane.
North Carolina Gov. Roy Cooper declared a State of Emergency Friday, Sept. 7, temporarily waiving hours of services restrictions for trucks and heavy vehicles traveling throughout the state. The declaration also waives size and weight restrictions for trucks carrying crops and livestock, to help move those loads easily throughout the state in response to problems the hurricane may cause.
Virginia Gov. Ralph Northam also declared a state of emergency Saturday, Sept. 8. South Carolina Gov. Henry McMaster also declared a state of emergency the same day. Maryland joined them on Monday, Sept. 10, when state Gov. Larry Hogan formally declared a state of emergency in advance of the storm.
"At this time, there is still some uncertainty about the track of this storm and its potential impact, but we are preparing for any possible outcome, including the potential of historic, catastrophic, and life-threatening flooding in Maryland," said Gov. Hogan. "Our state is taking every precaution, and I urge all Marylanders to do the same. Stay tuned to your local news stations for the latest updates, listen to state and local authorities, and most importantly, use common sense."
In South Carolina, Gov. McMaster ordered the evacuation of the state's coast. Residents in hurricane zones have been instructed to evacuate beginning no later than noon Tuesday, Sept. 11. At the same time, traffic along certain evacuation routes is being reversed. Those reversals are as follows:
Charleston to Columbia: A full four-lane reversal on I-26 in Charleston will begin at the interchange of I-26 and I-526. The full reversal continues west until the I-26 crossover to I-77 just outside Columbia in Lexington County.
Horry County: Horry County has two four-lane reversals along US 501: SC 544 to US 378; and US 501: Between SC 22 (Conway Bypass) to SC 576 near Marion County.
For the Beaufort and Hilton Head area, the state will poise and be ready to reverse US 278 and US 21 if traffic conditions warrant.
The National Hurricane Center on Monday advised that Hurricane Florence could cause a life-threatening storm surge along eastern coastlines, including South Carolina, North Carolina, and Virginia. The center warned that freshwater flooding and prolonged, heavy rainfall is likely over the Carolinas and Mid-Atlantic. The South Carolina and North Carolina coastal regions should also anticipate damaging winds, which could spread inland in the Carolinas and Virginia.
Two other storm systems are forming in the Atlantic. Hurricane Helene is forecast to turn and stay at sea, not affecting land. Hurricane Isaac is expected to arrive in the Caribbean later this week.