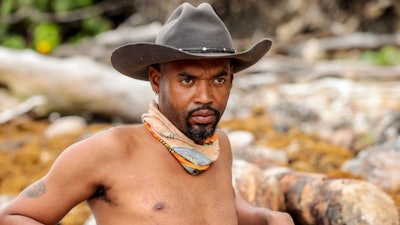 Move over Ice Road Truckers, there's a new reality show truck driver on TV.
This season's cast of Survivor includes Carl Boudreaux, a 41-year-old independent owner-operator from Beaumont, Texas. He's a member of Team David which goes up against, naturally, Team Goliath in the show's 37th season.
Boudreaux said he has been driving 17 years and has hauled chemicals for the past 12. When not on the road he said he rides his horse, enjoys fishing and spending time with his family.
Survivor airs Wednesday at 8 p.m. Eastern on CBS. Check local listings.
If you have been living under a rock for the past 18 years, the premise of "Survivor" is simple: two groups of people on a remote island compete against each other in various challenges. Along the way team members are eliminated until there is only one Sole Survivor who wins $1 million.
CBS recaps this season:
"Castaways who make up the "David" tribe have overcome adversity in their lives, while the castaways on the "Goliath" tribe tend to capitalize on their individual advantages and use it against their opponents. This extreme game of social politics will focus on the "underdogs" versus the "favorites" and reveal that every "Goliath" has an Achilles heel, while every "David" has a secret weapon. These castaways will be forced to compete against each other with the same ultimate goal: to outwit, outplay and outlast each other in an attempt to become the Sole Survivor."
In an interview on the show's website, Boudreaux said he wanted to be on the show, "To win a million dollars to put my family in a better financial situation. I love the show and have always wanted to be a part of it." He says he thinks he can do that because, "I feel that I can outwit, outlast, and outplay everyone else."
And, when asked what three things he would take to the island — in this case Mamanuca Island, Fiji — Boudreaux said, "A picture of my family, a prayer card, my pocket Bible."
Truckers News will have coverage of each week's episode to keep track of how Boudreaux does.