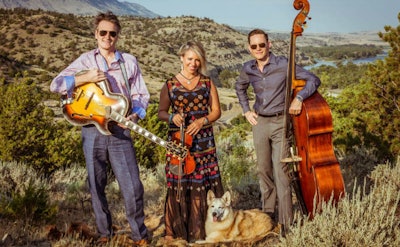 Hot Club of Cowtown, the Austin-based trio front by fiddle player Elana James, is back with a new and slightly abbreviated album, and it's not filled with their usual Western Swing.
Crossing The Great Divide is an homage to 50th anniversary of The Band's first two albums Music From Big Pink and The Band, and includes some classic country and Americana songs.
The Band became one of the leading groups of the 1960s and '70s, going on to be inducted into the Canadian Music Hall of Fame and the Rock and Roll Hall of Fame. Their song, "The Weight," was named 41st on Rolling Stone's list of the 500 greatest songs of all time.
On the new album is Hot Club's rendition of Johnny Cash's iconic ballad "Long Black Veil."
Songs on the album include:
Look Out Cleveland
I Shall Be Released
This Wheel's on Fire
Long Black Veil
When You Awake
Evangeline
Across The Great Divide
The album can be downloaded at CDBaby for $9.99.