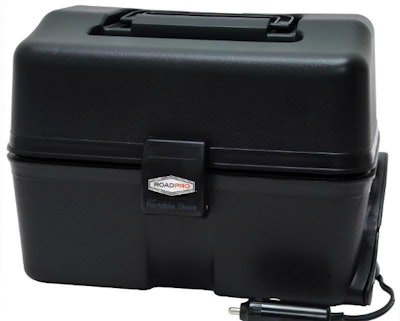 For some longtime truckers, this one appliance was their entire kitchen, and it remains a staple for the over-the-road chef.
This portable stove plugs into a 12-volt power port and is ideal for cooking or warming foods up to 300 degrees. It can be paired with aluminum disposable pans that make cleanup a snap, a definite plus for the trucker who might not have time to do the dishes.
RoadPro's Portable Stove deserves a spot in your over-the-road kitchen for its versatility alone. You can bake potatoes in it, heat up prepackaged entrees as well as canned soups and stews, thaw and cook frozen meals from home and cook rice, oatmeal, grits, and pasta easily.
It has a 15 amp fused, 5 and a half foot power cord. It draws 12 amps/144 watts.
RoadPro's portable stove is available at most travel centers.