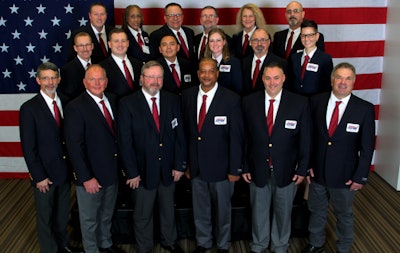 Four women have been named to the American Trucking Association's 2019-2020 class of America's Road Team, the most women to ever be named to any one America's Road Team class to date. Walmart Transportation's April Coolidge, FedEx Ground's Tina Peterson, Prime Inc.'s Dee Sova, and FedEx Freight's Nicolette Weaver have been named a part of the new class, which includes 18 truck drivers.
Coolidge, from Mint Hill, North Carolina, has accumulated over 650,000 accident-free miles in her six years of driving. She is a member of the Arkansas Road Team and place 12th at the 2018 Arkansas Truck Driving Championship. She was the January 2018 USA Truck Driver of the Month during her previous employment with them.
Sova has been a truck driver for 27 years and has more than 2 million accident-free miles on her resume. She was the recipient of Prime Inc.'s 2017 Highway Diamond of the Year Award and was also a finalist for the Real Women In Trucking "Queen of the Road" award that same year. Sova, from Sacramento, California, is on her fleet's Driver Advisory Board and Highway Diamond's program, the founder of Trucking Divas Rock, and was a member of Mothers Against Drunk Driving from 2004-2014.
Peterson drives for Ravenwood Transport signed onto FedEx Ground. Peterson, from Blaine, Minnesota, has driven for 15 years and has driven over 1.8 million accident-free miles. She received the FedEx Humanitarian award in 2017. She is on the FedEx Ground Safety Committee at the fleet's St. Paul terminal and has received its Safe Driving Award for 14 years. Peterson has also participated in the Convoy for Special Olympics.
Weaver, from New Bloomfield, Pennsylvania, has been driving for 18 years with 1.7 million accident-free miles to her credit. She has been recognized by FedEx with safe driving awards and the 2016 Bravo Zulu Award. Weaver placed third in the Twins class at the 2017 Pennsylvania Truck Driving Championship. She also organized and presented in six meetings for drivers at FedEx's 2017 Spec Meeting.
The other 14 drivers named to the team are:
William C. Bennett III, UPS Freight, Maytown, Pennsylvania
Sammy Brewster, ABF Freight, Powder Springs, Georgia
Jorge Chavez, Jetco Delivery, Houston, Texas
Timothy Chelette, Big G Express, Murfreesboro, Tennessee
James Clark, Penske Logistics, Otter Lake, Michigan
Scott Davis, ABF Freight, Kearney, Missouri
Douglas Frombaugh, FedEx Freight, Carlisle, Pennsylvania
William Goins, Old Dominion Freight Line, Cloverdale, Indiana
Billy Hambrick, Werner Enterprises, Yoder, Wyoming
Russell James, YRC Freight, Bonner, Montana
Gary Martin, FedEx Ground, Galt, California
William McNamee, Carbon Express, Christopher, Illinois
Ronald Vandermark, UPS Freight, Delran, New Jersey
Todd Wilemon, ABF Freight, Fulton, Mississippi