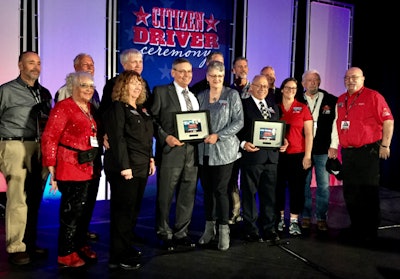 Elizabeth and Kenn Zelten met at a racetrack (she was a photographer and he was a racer), married shortly thereafter and took to the road when he lost his job.
Steen Gronlund got his start in the trucking industry as a farm boy on the Canadian plains and then in the oil fields there.
What brought all three of them to the stage at the Mid-America Trucking Show in Louisville, Kentucky Friday was everything they have done since those humble beginnings. Because of those accomplishments, they were chosen as this year's TA Petro's Citizen Drivers. They were chosen from a field of 10 finalists, which had been narrowed from more than 100 nominees, and now will have TA Petro stopping centers named in their honors.
Rodney Bresnahan, TA Petro's executive vice president for retail operations, said that as it has in the previous five years, the Citizen Driver Award recognizes "the best of the best". He said that over the years, the 31 honorees amassed 891 years of driving experience, have driven 87 million miles and saved six lives.
He also explained why TA Petro honors truckers as it does. Not only are drivers recognized for their career accomplishments, but also for what they do when not driving, as volunteers in their communities, church, and other activities.
"TA Petro believes that drivers deserve nothing but the utmost respect," he said.
That respect was evident as 73-year-old Steen Gronlund was introduced.
Gronlund has been driving for 49 years and has compiled 5.43 accident-free miles. After spending many years as an owner-operator running coast to coast he now is a company driver for Mile Hi Foods.
Kenn and Elizabeth Zelten have driven as a team for 30 years. They were company drivers briefly before becoming owner-operators. Today they are leased to Landstar.
The other finalists were:
Jeff Baker, a driver for Crete Carrier Corporation from San Antonio, Texas

Duane Donner, a driver for Walmart Transportation from Litchfield Park, Arizona

Herschel Evans, a driver for Holland, Inc. from Bremen, Georgia

David Henry, a driver for REK Express from Landmark, Manitoba, Canada

James Kelly, a driver for Landstar BCO from Minden, Louisiana

Dan Porter, a driver for Hyndman Transport of Acton, Ontario, Canada

Jerry Seaman, a driver for NTA Trucking, LTD of Huron South Dakota

Morris Sims, a driver for Crete Carrier Corporation from Madisonville, Tennessee
The program wrapped up with a three-song set by Lindsay Lawler and Chris Roberts including her anthem to truckers, I Drive.