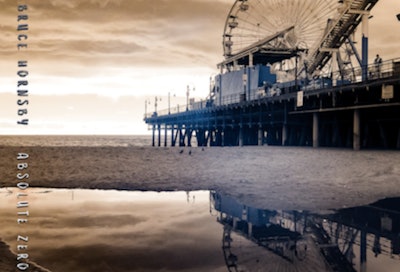 Mention Bruce Hornsby and most people quickly recall his 1986 chart-topping social commentary single "The Way It Is" from the multi-platinum album of the same name by his band The Range.
But, over the years Hornsby has made his musical mark as a songwriter, sessions player and performer with the Grateful Dead. He has had a continuing bluegrass collaboration with Ricky Skaggs and the Range's third and final album featured jazz great Wayne Shorter.
But, Hornsby has also had a sterling career as a solo artist. His latest effort, Absolute Zero, arrived last week and includes 10 tracks, several of which feature other well-known musicians.
Writing in The New York Times, Jon Pareles says of Honrsby's latest, "In the new songs, Hornsby addresses a complex, distressing world with complex music, offering not an escape but a cleareyed recognition of 21st-century pressures and longings." And, on NPR's First Listen, Jason Heller calls the new album "a fascinating and absorbing peek into the veteran musician's love of avant-garde classical, jazz and progressive rock.
Absolute Zero, Hornsby's fifth solo album, includes:
Absolute Zero (featuring Jack DeJohnette)
Fractals
Cast Off (featuring Justin Vernon and Sean Carey)
Meds (featuring Justin Vernon, Blake Mills and Rob Moose)
Never In This House (featuring yMusic and The Staves)
Voyager One (featuring yMusic)
Echolocation
The Blinding Light Of Dreams (featuring yMusic)
White Noise
Take You There (Misty) (featuring yMusic)