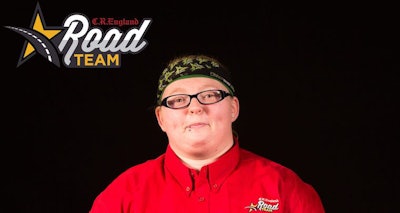 In just five years in the trucking industry, C.R. England driver Amanda Bannister has already been appointed a captain on her fleet's road team and was recently recognized as one of its drivers of the year. Bannister takes her success and pays it forward by mentoring other drivers and bringing new recruits to her fleet.
"I like helping others and seeing everybody be successful," said Bannister, who is from north of Kansas City, Missouri.
As part of her Road Team Captain duties, Bannister is available to other drivers if and when they need help. If a driver is struggling with sliding their axles, for example, and Bannister is nearby, she can step in to help. Bannister also travels to trucking schools to recruit drivers for her fleet. She's straightforward with them about what she considers to be the biggest draw: the money.
"I tell them what I make. I run as a solid team. We've been there for four and a half years as a team together," said Bannister, who teams with her boyfriend, Kenneth Newman. "I show them the money and that catches their attention right away. Then we tell them a trainer can make almost double that."
Bannister was shocked but honored when she was named one of C.R. England's drivers of the year. She says patience is essential to being successful in the trucking industry.
"Be careful with what you're doing. Be safe. Safety, first and foremost. Just be patient with everybody," Bannister said. For women in the industry specifically, she added, "The men that are in this industry, some of them look at you like you shouldn't be driving a truck. Just ignore them. Just be patient with everything."