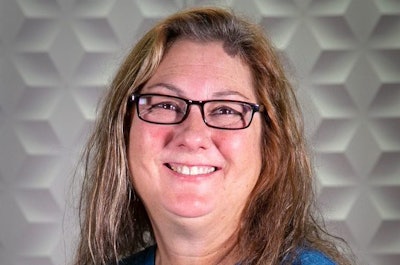 Jody Asbury has been mentoring other drivers for nearly as long as she's been driving herself.
"Right out of the gate I became a mentor," said Asbury, who has been a trucker for six years.
Asbury had 20,000 miles under her belt when she first became a driver trainer, and she's been training new drivers ever since. Asbury, from Garden Grove, California, drives for C.R. England and was recently recognized as a Driver of the Year for her accomplishments.
As a driver trainer, Asbury works with a lot of different personality types and says "a few of the good make up for a lot of the bad." She has what she says is an open, adaptable approach to training.
"I let them know right in the beginning the expectations of what I need to get the load there and how they're going to participate in it. I go by their learning curve," Asbury said.
She wants her trainees to come off her truck confident about their driving abilities but still eager to learn more.
"My goal is to have them able to run their own truck and troubleshoot within that three weeks, but with them having the open mind that every day is a new day and that we're always learning," Asbury said.
Before she became a truck driver Asbury was a certified light technician for energy efficient lighting. Due to contract changes, the company she worked for laid off some employees for a while, including Asbury. She decided she didn't want to wait around for that job to reopen, and she'd always wanted to be able to travel. Asbury has a degree in tourism and travel from Butte College in Oroville, California.
"I said, well, I'm going to do this and I'm going to go see everything that I want to see," Asbury said about becoming a driver.
Asbury has run dedicated routes from California to Jersey City and Massachusetts, giving her plenty of travel opportunities.
"This is a big experience and every day is new," Asbury said.
When she's not trucking, Asbury and her husband, Victor, enjoy visiting racetracks and watching Indy races.