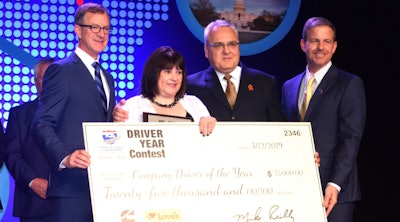 A woman trucker from Canada was named the Company Driver of the Year during the annual awards banquet at the Truckload Carriers Association's Convention in Las Vegas Tuesday night. It was the first time a woman made it to the final three since 2005.
Ester Nemeth, who drives and trains for Bison Transport from Winnipeg, Manitoba, Canada won the award presented by the TCA and Truckers News in ceremonies at the Wynn Las Vegas Resort. Nemeth, who has driven well over than 2 million miles in her 30 years on the road, received $25,000.
The contest is sponsored by Love's Travel Stops and Cummins, Inc.
For Nemeth, who grew up in a small gold mining town more than seven hours north of Winnipeg, earning a living as a driver truly has been a dream made real.
Not bad for a woman whose first time behind the wheel was a bit disconcerting.
"I was very nervous the first time I got into a truck," said Nemeth. "It was at truck driving school and we were just driving around a track, but I was like, 'Oh my God, this thing is so huge.' And, that stuck with me for a while until I realized, 'OK, I can do this.'"
That was in the late 1980s, and after driving school she said the early years of her trucking career were spent as a team driver, eight years at her first company and then about her first 10 years at Bison. She said she mostly drove the open roads of the U.S. and Canada, while her partner handled much of the backing and finding and dealing with the customer when not driving. When she went solo, she worried at first about shouldering all responsibilities, but adapted with each load and learned she could do it and do it well.
Today, she teaches all those skills to other women drivers while also driving. They run mostly in the Midwest of the U.S. However, as a trainer, she has to be sure her students learn to drive in many conditions, so she also spends time driving east through Canada and into Ontario.
Nemeth said she knows she has special responsibilities not just as a trainer, but as a woman driver too.
"I realized that being one of the first female driver to reach 1 million consecutive safe driving miles at Bison, other female drivers were going to look up to me," she said. "They would be looking for some guidance. As an in-cab instructor with my company and I truly enjoy being able to give my knowledge and experience to the new drivers coming up.
"The transport industry has been male-dominated for decades. As a woman in today's trucking industry, every day can introduce new challenges but I take pride in accomplishing those. It's important that you are always thinking about how you represent yourself and the industry every day."
Runners up were Don Lewis, who drives for Wilson Logistics, of Springfield, Missouri and David McGowan, a driver for WEL Companies, Inc., of De Pere, Wisconsin. They each received $2,500.
Also during the banquet, TCA and Overdrive named Danny Jewel the Owner-Operator of the Year. Jewell, from Nebraska City, Nebraska is leased to Warren Transport, Inc. of Waterloo, Iowa. Like Nemeth, he took home $25,000.
Runners up in the owner-operator contest were Kevin Kocmich, from Litchfield, Minnesota, who is leased to Diamond Transportation System, Inc. of Racine, Wisconsin and Robert Roth, from Coldwater, Ontario, Canada, who is leased to Erb International of New Hamburg, Ontario, Canada.