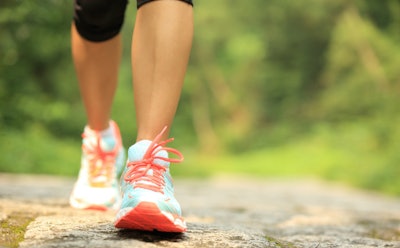 Not long ago some health and wellness advocates urged walking 10,000 steps every day to get and stay healthy. That equates to about five miles or a 30-minute hard workout.
While that may be a good target for some, it is wildly ambitious — and frankly not doable — for others. If you're more than 50 years old, pressed for time or in a sedentary job — like truck driving — 10,000 steps may be impossible.
However, any and all walking is beneficial. The Mayo Clinic says walking helps:
maintain a healthy weight
improve your balance and coordination
prevent heart disease, high blood pressure, and type 2 diabetes
improve your mood
The prestigious clinic also says it's important to track your progress and know how much you truly are walking. Fortunately, you don't have in buy an expensive fitness tracking device to wear. There are dozens of apps for iOS and Android smartphones to help you do that right down to the last step you take each day.
Among them are:
ActivityTracker, which uses your smartphone's motion processor instead of its GPS, it's able to track your all-day activities without draining your battery. Aside from counting your steps, it logs your total distance, calories burned, and how much time you're active.
Pedometer Pacer, like Activity Tracker, not only logs your steps and calculates the number of calories burned, also helps you see how you're doing in meeting your walking goals.
Step Counter and Calorie Counter not only counts your steps but can also be used to track other fitness activities like running and cycling.
Pedometer – Step Counter by Zeopaxa adds even more whistles and bells to the basic step counter. It lets you complete challenges to keep you motivated, calculates your body mass index and uses voice feedback to relay your progress.
These are but a few of the pedometer apps available. Note that you need to shop around before downloading. Some apps require in-app purchases to access some of the fancier features, while others are loaded with annoying ads. Also, it's important to note that some step counters use your smartphone's GPS so can zap your battery life quickly. Look for one that uses your phone's motion sensor.