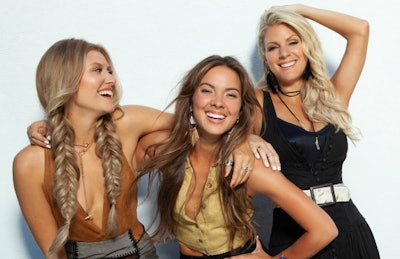 If you were at the Mid-America Trucking Show in Louisville, Kentucky this past March, you may have been lucky enough to catch the free concert that featured the country trio of Runaway June.
If you did — and even if you didn't — you'll be happy to know the all-female band delivers its first album in a couple of weeks. The band — made up of Hannah Mulholland, Naomi Cooke and Jennifer Wayne — issues "Blue Roses" June 28. And, it's no surprise the new music arrives this month.
"June has always had a special meaning to our band," said Wayne on the band's website. "The name Runaway June is symbolic of the many pivotal moments in our lives and career that happen in the month of June. It's only fitting that our first album comes out in June!"
The 10-song album includes two singles — Buy My Own Drinks and I Am Too — that already have gotten plenty of recognition and radio play.
Blue Roses is available now for pre-order digitally. Folks who order it will instantly receive four tracks (Buy My Own Drinks, Got Me Where I Want You, Fast As You, and I Am Too) with each purchase.
Songs on "Blue Roses" include:
"Head Over Heels"
"Buy My Own Drinks"
"We Were Rich"
"I Know the Way"
"Trouble with This Town"
"Got Me Where I Want You"
"Fast as You"
"I Am Too"
"Good, Bad & Ugly"
"Blue Roses"