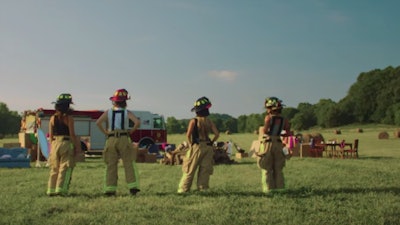 If ever there was a supergroup of female country stars designed to capture the hearts and musical minds of women truckers, it may very well be the Highwomen.
This high-octane band includes Amanda Shires, Brandi Carlile, Maren Morris, and Natalie Hemby. They have a memorable single and video (see it below) already making waves and their debut album — Highwomen — is due out Sept. 6.
The video for the song "Redesigning Women" has Shires, Carlile, Morris, and Hamby showing up in an open field aborad a fire engine and decked out in firefighter gear. Soon they are joined by a lot of familiar faces: Tanya Tucker, Lauren Alaina, Kassi Ashton, Cam, Lilly Hiatt, Wynonna Judd, Catie Offerman, Cassadee Pope, Erin Rae, RaeLynn, Natalie Stovall, Anna Vaus, and Hailey Whitters. Together they set fire to many of the old props that used to define women's lives. Suffice to say it's way beyond a "girl power" statement.
The four bandmates are joined on their 12-cut CD by even more big names. Jason Isbell shows up on guitar and the CD includes a song co-written with Miranda Lambert.
"I love that we have songs on this album about shattering female stereotypes, to a gay country love song, and songs about losing loved ones," says Morris told Rolling Stone. "It's all real and it's all country."
If ever you need a bit reassurance as you go about your driving day, the Highwomen and their album of the same name might just be what you need.
1. "Highwomen"
2. "Redesigning Women"
3. "Loose Change"
4. "Crowded Table"
5. "My Name Can't Be Mama"
6. "If She Ever Leaves Me"
7. "Old Soul"
8. "Don't Call Me"
9. "My Only Child"
10. "Heaven Is a Honky Tonk"
11. "Cocktail and a Song"
12. "Wheels of Laredo"