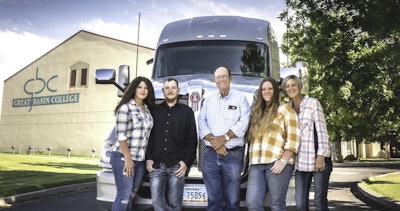 A Nevada mother and her daughters are forging new careers in trucking after attending and graduating from the same CDL program together.
Cassandra Sasse, a mother of seven, turned to trucking as a way to support her family. She enrolled in Great Basin College's six-week CDL program, but she wasn't alone in pursuing trucking as a career. Cassandra was joined by her three adult daughters, Kendall, Katelynn and Kodi. Kendall and Katelynn joined the same class as their mother, while Kodi waited to enter the same program in May when she would be 21.
"We're no strangers to heavy-duty trucks since my husband holds a Class A CDL, so my kids and I started looking at the trucking industry for opportunities," said Cassandra. "I have seven kids, and four of them still need supervision. It was important for me to find a career that would give me the flexibility I need to watch over my young kids."
The family now drives professionally hauling heavy equipment for Elko, Nevada mining companies.
"We're excited about the opportunities we have in the industry," said Cassandra. "Our ultimate goal is to own and operate our own trucks and eventually drive long haul.