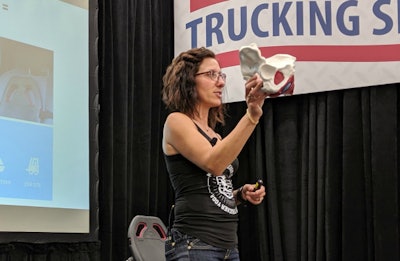 Truckers will have four opportunities to get some healthy advice during National Truck Driver Appreciation Week and beyond.
TravelCenters-TA-Petro will host presentations by Hope Zvara of Mother Trucker Yoga at four of its locations. The programs are presented by the St. Christoper Trucker Relief Fund.
The programs will include information on improving your posture, stretches drivers ought to be doing and in-cab cardio exercises. They will be held at four Petro locations:
Sept. 10 in Gary, Indiana
Sept. 12 in Effingham, Illinois
Sept. 24 in Reddick, Florida
Sept. 26 in Columbia, South Carolina
The programs are supported by Progressive Commercial's Trucker Territory, Brenny Transportation, Inc. & Brenny Specialized, Inc., and Armstrong Tire.
TA Petro offers numerous specials at its locations throughout September in honor of National Truck Driver Appreciation Week. See what's being offered and where.