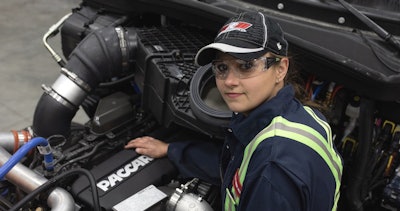 Jennifer Lesnik, a service technician at Edmonton Kenworth in Alberta, Canada, is the first woman in the Kenworth dealer network in Canada and the United States to achieve Certified Master Technician Status.
Lesnik grew up on a farm and was raised around heavy duty trucks. She began her career with the Edmonton Kenworth group as a dealer service technician in 2007.
"My grandfather owned a trucking company, so trucks were always around growing up," Lesnik said. "I've always been fascinated by the sheer power trucks produce, plus I love the way they look. Especially the traditional long hoods. The trucking industry seemed like the right field to enter and I was right. I couldn't be happier with the work I do. Servicing trucks and getting them back on the road is incredibly rewarding to me."
In order to achieve Kenworth Master Technician status, dealer technicians must show they've mastered the skills needed to perform all diagnostics, repair, and maintenance procedures. It takes about 570 hours to complete all coursework and training to earn the Kenworth Master Technician title, in addition to the 6,000 hours of training required to become a Licensed Journeyman Heavy Equipment Technician in Canada.
"It feels amazing to have completed this certification and become a Kenworth Master Technician," Lesnik said. "It's hard work and it takes a lot of time to complete, especially when you work full-time during that training, but now that it's over I feel confident in my ability to handle any of my customers' needs."
When she's not working on rigs Lesnik can be found volunteering with CAREERS: Young Women in Trades and Technology, where she attends career fairs to educate young women about service technician opportunities in the trucking industry. Lesnik's mother was supportive of her decision to enter a male-dominated field and now Lesnik tries to pass that support on to other women.
"It's easy for girls to assume that working on trucks is a skillset only men have, but that simply isn't true," Lesnik said. "My mom's support gave me the confidence to enter the field and prove I'm good at what I do. I want to encourage young women that they can be successful in this industry. I love what I do and wouldn't change anything for the world."