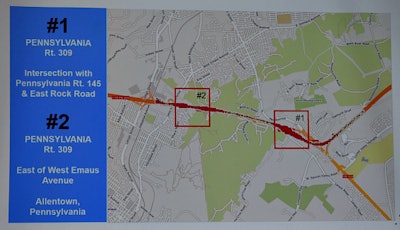 There are parts of several highways in Pennsylvania so dangerous that truckers may wish to avoid them.
That's according to an analysis of data collected by Lytx between November of 2018 and August of 2019. The study was presented at the recent American Trucking Associations Management Conference and Exhibition in San Diego.
The two riskiest road segments in the entire U.S. are:
Pennsylvania Route 309 intersection with Pennsylvania Route 145 and E. Rock Road
Pennsylvania Route 309 east of W. Emaus Avenue
Two other road segments in the state landed in the top five of risky places to drive. They were:
Interstate 84's intersection with Pennsylvania Route 435 in Dunmore
Interstate 81/Pennsylvania Route 309 intersection with E Northampton Street in Wilkes-Barre Township
All four road segments are near interchanges or on/off ramps. The sudden lane changes and rapid changes in driving speed associated with these areas tend to amplify risk, especially amongst already risky drivers.